Bolt Metals Corp. (CSE: BOLT) (OTCQB: PCRCF) (XFRA: NXFE)
Bolt Metals Corp. (CSE: BOLT) (OTCQB: PCRCF) (XFRA: NXFE) is a Canada-based exploration company focused on the acquisition and development of production-grade battery metals deposits within the Asia-Pacific region, employing a vertically integrated "minerals-to-market" strategy to leverage these assets to their fullest.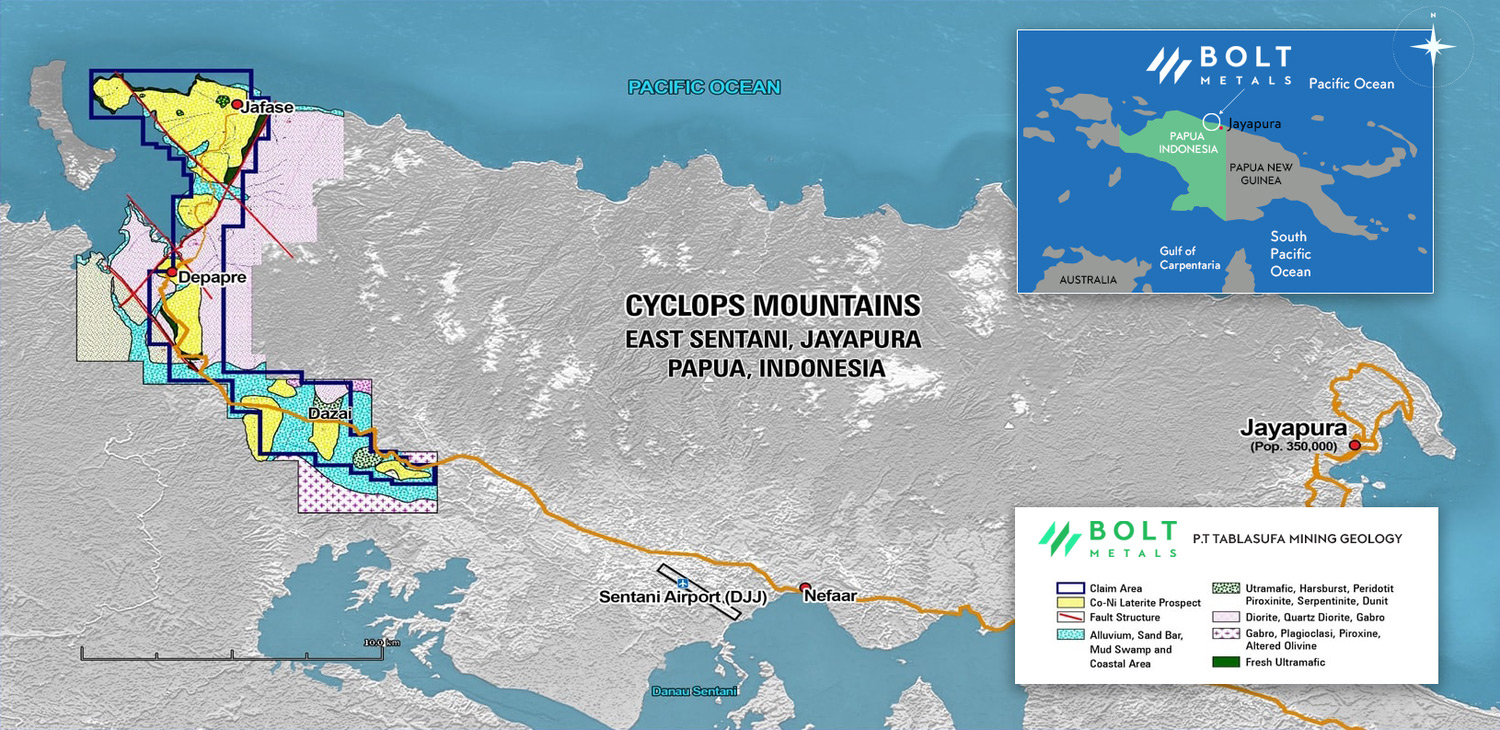 Bolt Metals Corp. is advancing its flagship, 100% controlled Cyclops Nickel-Cobalt located in Papua Province, Indonesia with a mandate to become a key contributor to Asia-Pacific's rapidly expanding electric vehicle and battery supply chain.
The Cyclops project, uniquely positioned within the world's largest producer of nickel and in proximity to China, the world's largest "Gigafactory", features near surface, strong nickel-cobalt mineralization. The property is situated in an area with excellent infrastructure including a nearby workforce, supplies, sealed roads, ocean access, nearby port facility and gentle topography. The project area, nestled on the north coast of Papua, Indonesia, establishes Bolt Metals well within the economically attractive ocean-going transportation range to Asia and its lucrative, growing industrial markets.
Global demand for renewable power is fueling a massive shift from traditional energy supply chain economics to nickel-reliant lithium-ion batteries, the world's most widely used power source for portable applications such as electric vehicles and other high-tech applications.
Indonesia has recently approved environmental impact studies for factories to produce battery-grade nickel chemicals in Morowali. The approval will allow investors, such as China's stainless steel giant Tsingshan Group, to continue the construction of their high-pressure acid leaching plants in Morowali, Central Sulawesi.
Ranjeet Sundher, chief executive officer of Bolt Metals, said: "Indonesia continues to make significant strategic decisions, and this latest announcement represents an important step in Bolt Metals's efforts to benefit from Indonesia's rapid development as a leading market for all stages of the EV supply chain. With offices in Vancouver, Shanghai and Jakarta, Bolt Metals is well positioned to leverage Asia's global dominance in the battery manufacturing sector."
Indonesia's commitment extends to the very top of government, with Joko Widodo – Indonesia's President – stating in September 2019 that "for nickel, we want raw materials to be processed in Indonesia. We want added values". This supports previous pronouncements from key officials, including Indonesian Maritime Minister, Luhut Pandjaitan who remarked that Indonesia will "become the main player in lithium batteries" and that it will "control the world market".
The country, which is the world's top nickel ore exporter, has stopped export of unprocessed nickel ore to support this plan.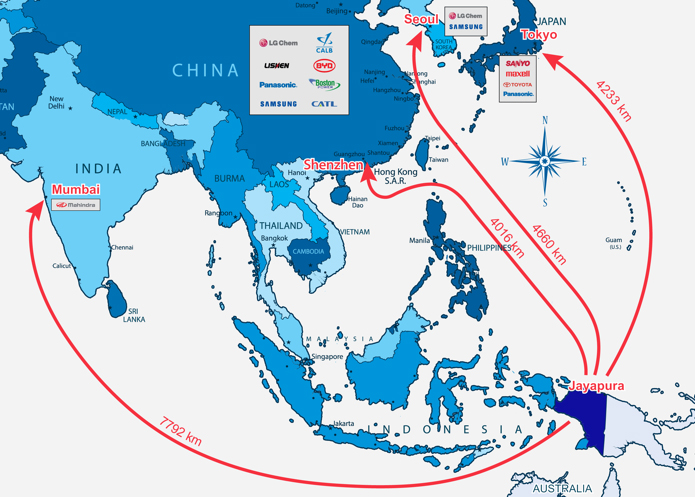 During 2019 the Company carried out an extensive exploration and development program on Cyclops and achieved successful nickel results with its drilling and bench-scale scoping tests for processing of materials.
Drilling identified significant horizons of nickel mineralization and bench-scale scoping tests returned positive results for processing of this nickel rich material.
The recovery percentages form the bench-scale test program are set out below (for further information, please refer to the Company's press release of October 28, 2019):
| | | | |
| --- | --- | --- | --- |
| Sample | Nickel (%) | Cobalt (%) | Iron (%) |
| Limonite | 99.26 | 98.82 | 97.77 |
| Low Iron Transition | 99.75 | 97.03 | 99.22 |
| Saprolite | 99.77 | >99.9 | 99.74 |
Selected elevated nickel drill results are provided below from the Company's shallow drilling program (for further information, please refer to the Company's press releases of March 5, April 1, April 23, June 13, June 20 and September 10, 2019):
| | | |
| --- | --- | --- |
| Intersection length (metres from surface) | Nickel (%) | Cobalt (%) |
| 7.0 | 2.15% | 0.03% |
| 4.0 | 1.96% | 0.04% |
| 2.0 | 2.00% | 0.01% |
| 2.0 | 1.91% | 0.05% |
2020 will see continued and consistent development in Bolt Metals's strategy as the company continues to set ambitious milestones with the goal of becoming a leading international player in the EV battery metal sector and creating significant long-term shareholder value.
This includes preparations to commission and operate the company's pilot plant in Canada, which will contain an integrated circuit to produce high-purity nickel and cobalt strip solutions to develop battery-grade nickel and cobalt.
The results of the pilot plant will then be used to establish the design criteria for the subsequent demonstration plant in Indonesia, which will produce nickel and cobalt products suitable to meet market specifications. As well as demonstrating Bolt Metals's ability to produce a product within market specifications, this will also be used to establish the design criteria for the company's commercial-scale plant.
Bolt Metals's world-class management team includes Ranjeet Sundher, who has over 20 years of capital markets experience. Sundher is also president of Canrim Ventures Ltd., a Singaporean advisory firm specializing in early stage project finance and structure. He previously founded Indogold Exploration, a Jakarta-based mining service firm, and has raised over $40 million for companies in which he was a founder/partner.
Chief Financial Officer Steve Vanry has 25 years of professional experience in senior management positions with public and private natural resources companies, providing expertise in capital markets corporate finance, mergers and acquisitions, regulatory compliance, accounting and financial reporting.
Andre Talaska serves as country manager and technical supervisor. He has over 30 years of experience in the mining and exploration industry and has held senior positions with several companies in Australia and southeast Asia. Shakir Juffry, business development/engineering, is a chemical engineer and extractive metallurgist by background training who has over 20 years of experience in the Indonesian mining and minerals exploration field. Toto Suarto Sajali, operation and development manager, is a mining engineer with over 15 years of experience in Indonesian project assessment, development and operations.